Poinsettia Quilled Christmas Gift Tag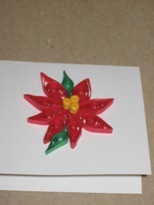 QUilling is an ancient, but easy to learn art. This quilled gift tag features a poinsettia that is made of two basic quilled shapes. Take some time to try this exquisite paper craft.
If you have any other unique quilled paper crafts that you would like to share, please let us know.
Craft Supplies Needed
1- 2.5" x 5" piece of white paper for the gift tag
Green, Yellow and Red strips of 1/8" quilling paper (you can cut your own with a paper cutter as long as it is a lightweight paper, and is colored all the way through with no white edge)
Slotted quilling needle or hatpin or toothpick
Glue that dries clear like Scrappy Glue
Tweezers
Scissors
Crafting Steps
The design above was made using only two basic quilling shapes, a tight circle and a petal. Quilling tip: slightly wet the end of the paper before beginning to roll it on the toothpick so it will begin to roll tightly.
For the center of the poinsettia, take three yellow strips of quilling paper around 2" long and wrap each of the them extremely tight around a needle or other thin round shape. Glue the end of each quilled roll so that it will keep its tight form
For the petal and leaf shapes, roll a 5" strip loosely around the toothpick and then pinch both ends. There should be eight petals and two leaves. Note that the leaves are a little bit smaller than the petals. (Our petals are 7/8" long)
Fold the 2.5" x 5" piece of paper in half to form a perfect square tag.
Place some glue on a scrap piece of paper in an area about the same size as the design. Glue the design to the front of the tag as shown above by taking each piece and dipping it with the tweezers in the glue and placing it on the card. Place the three yellow rolls on last to top off your design- they should be set right on top of where all the eight petals meet. (Be careful not to move the pieces once they are placed on the tag, so the glue will not smear.
You can place a paperback book or a magazine on top of the design to add some pressure while it dries.
Feel free to experiment with the design, as there is some art to this craft. No two gift tags will look exactly alike. Remember that you are not striving for perfection here, which in quilling crafts is ok, since even imperfect quilled crafts are beautiful.
Enjoy !
Do you love creating Christmas crafts and would like to share them?
Send them to us and join our Top Crafters. The best Christmas craft ideas will be showcased in our Craft Hall of fame