Kids Crafts- Easy Christmas Crafts for Kids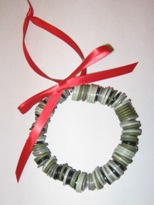 Whether you are a teacher, parent, grandparent or Sunday School teacher, we have some great Christmas craft ideas for kids. These are a selection of our crafts that are the easiest to create as well as using the most easily accessible materials and supplies.
Browse through our crafts and please feel free to share your ideas and pictures wit us. Enjoy !
| | |
| --- | --- |
| | With a red pom pom nose, this cute little reindeer craft is unmistakably Rudolph, and is wonderful craft for children and teachers |
| | |
| --- | --- |
| | This is a great button ornament craft for kids. With buttons available at most craft supply shops, you or your children can make these cute Christmas wreaths to hang on the tree or give as a present to parents or grandparents |
| | |
| --- | --- |
| | With some pony beads and a chenille stem, you can make this wonderfully easy craft tree for your tree. |
| | |
| --- | --- |
| | Tempura paints help make these Christmas tree cards that are beautiful enough to send your greetings out this year, yet easy enough for children to enjoy |
Also see our Pony Bead Crafts section - coming soon
Do you love creating Christmas crafts and would like to share them?
Send them to us and join our Top Crafters. The best Christmas craft ideas will be showcased in our Craft Hall of fame