Chenille Stem Christmas Tree Ornament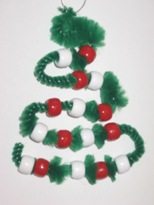 One of the easiest and Christmas crafts for kids, this little tree is made simply of pony beads and a chenille stem. All you need to do is provide a loop to hang it on your tree. Your children will love this little ornament.
Craft Supplies Needed
12" chenille stem (or bumpy chenille stem as in the picture)
12 to 18 pony beads (red and white, or multicolor)
ribbon or wire for hanging the ornament
Crafting Steps:
Slide 12 to 18 pony beads on a chenille stem, being sure to mix the colors.
Bend the tree at the bottom forming approximately a 2.5" base. Now bend the chenille stem back and forth, making each bend a smaller length than the bend before it until you end with a little curl of chenille stem at the top.
Tie a wire or ribbon at the top to hang your ornament.
Enjoy !
Do you love creating Christmas crafts and would like to share them?
Send them to us and join our Top Crafters. The best Christmas craft ideas will be showcased in our Craft Hall of fame