Button Wreath Ornament Craft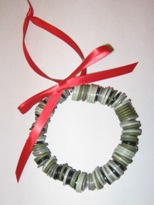 This craft is simple and cute as a button. This project is very easy and is perfect Christmas craft for kids. The wreath is so charming that you don't have to be a child to be proud of this one.
Whether you hang it on your tree or hang it on your presents, this button craft is a delightful decoration.
Craft Supplies Needed
Assorted button in shades of green. (or any colors you like)
16 gauge wire
Decorative ribbon
Needle nose pliers
Wire cutters
Crafting Steps
Take the 16 gauge wire and cut a length of approximately 10". (Length can vary depending on the desired size of wreath)
Make a loop on one side of the wire with the needle nose pliers.
Put the buttons on the wire.
Bend the wire to form a circle and insert the other end of the wire through the loop that you previously made, and bend the wire to secure it, making sure to leave some room to insert the ribbon through the loop
Cut two pieces of ribbon. Insert one through the loop, forming a bow and then insert the other ribbon through the loop to form a loop for hanging your ornament.
Enjoy !
Do you love creating Christmas crafts and would like to share them?
Send them to us and join our Top Crafters. The best Christmas craft ideas will be showcased in our Craft Hall of fame