Rudolph Clothespin Ornament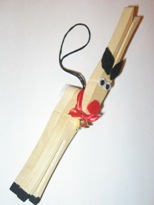 Three clothespins and a few decorations make an easy Christmas craft for kids. This cute little reindeer happens to be Rudolph, but feel free to make enough to pull Santa's sleigh. And you don't have to settle for simple, with a little imagination, you can have your reindeer dressed for any occasion.
Craft Materials
String in black, white, green or red
Scissors
Glue (Elmer's will work fine)
3 old fashioned clothespins
1 piece of red felt
1 piece of black felt
1 small white pom pom
1 pair of wiggly eyes
thin red ribbon in red, white or green
small bell
black paint and paintbrush (or permanent marker for adults)
Crafting Steps:
Cut a 6" length of string and tie the ends together to form a loop.
Glue the knotted end of the string between the heads of two clothespins to create the reindeer's body.
To create the reindeers head, glue the third clothespin upside down onto the first two.
When the glue has completely dried, attach a circle of red felt for a nose, a white pom pom for a tail and the pair of wiggly eyes.
Cut two ears from the black felt and glue them to the base of the reindeer antlers.
Tie the piece of thin red ribbon with the bell strung on it around the reindeer's neck.
Lastly, paint the reindeer's hooves with black paint, or with a permanent magic marker (for adults)
Do you love creating Christmas crafts and would like to share them?
Send them to us and join our Top Crafters. The best Christmas craft ideas will be showcased in our Craft Hall of fame