Angel Stamp Christmas Card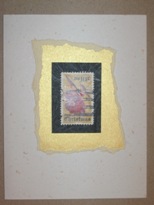 Christmas stamps portray such wonderful scenes such as the nativity and angels, that they make the perfect centerpiece for a card. The key is to highlight that little piece of artwork so that it is the focal part of your Christmas card. Follow these crafting steps to learn how.
And don't forget to send us Christmas card craft ideas that you would like to share.
Craft Supplies Needed
Piece of white or off-white paper (this card is 4.25" x 5.5") or blank card
4" x 4" piece of thick gold paper
Piece of textured black paper
Angel Stamp (this card features a US 10 cent stamp with the painting "Altarpiece" from the Metropolitan Museum)
Craft glue
Scissors or paper cutter
Crafting Steps:
Use a blank card or create your card by folding a piece of paper that is 8.5" x 5.5" (one half the size of a standard piece of paper- bottom or top half when standing upright) the benefit of purchasing a blank card is that you can also purchase a matching envelope. Also remember to use paper that is white or off white so that you can write inside. Paper with texture and detail are wonderful and add interest to the piece as long as the paper is smooth enough to be written on.
Now tear a piece of gold textured paper to create a rectangular shape at least 2" x 3". To create the white edges as shown on this card, be sure to have the textured/colored side towards you and tear the "keeper" part of the paper away from you. You may want to experiment with a small tear to ensure that you are able to create a white tear edge around the whole of the rectangular paper.
Cut out a rectangle from the textured black paper that is 1.5" x 2".
Glue the stamp to the black rectangle. Glue the black rectangle to the torn edged rectangle. Glue the torn edge rectangle to the center of the card. Give the card time to dry
Enjoy !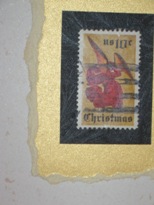 Optional: Use any Christmas stamp that you have for this craft. This stamp was removed from an envelope. Remember, though that it is best to alternate between light and dark colors so that the stamp will stand out. If the stamp is a dark color, then make the 1.5" x 2" rectangle a lighter color. And try to glue the stamp to a shape that is similar. If your stamp is square, then make the two pieces of cutout paper beneath it square. And the more texture the better. It will really set off your project.
And how do you remove a used stamp for this craft project? If the envelope is white or a color that won't bleed, then soak the envelope in warm water for 10 to 20 minutes. Slowly peel the stamp away from the envelope and then blot it dry with a towel or paper towel and then let dry. If it is on a colored envelope, you will have to steam it off.
Do you love creating Christmas crafts and would like to share them?
Send them to us and join our Top Crafters. The best Christmas craft ideas will be showcased in our Craft Hall of fame