Yarn Candy Cane Ornament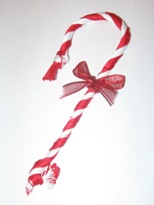 This is a quick and easy craft that will brighten any Christmas tree. Although it is easy, please note that it does take some hand dexterity that small children may not possess. You may need to tie the knots if you plan on making this a craft for youth. But with a few easy steps, you can create candy cane that looks good enough to eat.
Craft Materials:

1 skein of red DMC Pearl Cotton
1 skein of white DMC Pearl Cotton
Scissors
Red pipe cleaner
8 inches of 1/2" to 5/8" ribbon
Crafting Steps:
Open a skein of cotton and snip the loop at each end so you have two bunches of cotton. Repeat with the other skein.
Take one red bunch and one white bunch and tie them together into a single knot around the end of a pipe cleaner.
To make the stripes, twist the two colors around the pipe cleaner and knot the ends together around the other end.
Trim the cotton at both ends and trim the pipe cleaner if needed.
Bend into the shape of a candy cane and tie a bow in the middle for added decoration.
Do you love creating Christmas crafts and would like to share them?
Send them to us and join our Top Crafters. The best Christmas craft ideas will be showcased in our Craft Hall of fame