Country Christmas Tree Ornament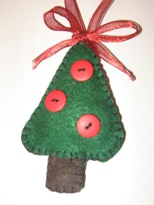 Put a tree on your tree or your presents this year. Or add a name to the back of this ornament for a thoughtful table setting. This adorable ornament is a wonderful decoration for your country Christmas decorated tree and makes a wonderful addition to those who love all things charming and simple. A simple hemstitch and few basic materials and you are on your way!
Craft Supplies Needed
Green and brown felt
Three small red buttons
Black embroidery floss
Needle
Several balls of cotton
Ribbon
Hot glue gun
Scissors
Crafting Steps:
Cut two triangular tree shapes from green felt, by doubling the felt over so that both sides of the tree can be cut at once. Likewise cut the the rectangular stump from brown felt that has been doubled over so that both sides can be produced at once.
Using black embroidery floss, hemstitch around three sides of the stump, leaving the top open. Pull apart a cotton ball and put about half of the cotton inside the felt stump.
Sew the three red buttons to one side of the triangular tree shape.
Hemstitch around the tree leaving a gap at the bottom to insert the stump. Fill the tree with cotton through the hole in the bottom.
Insert the stump just far enough into the bottom of the tree to hemstitch the stump to the tree.
Glue a loop of ribbon to the back of the tree near the top for hanging the ornament. Additionally glue a bow for added decoration to the top of the tree in the front.
Do you love creating Christmas crafts and would like to share them?
Send them to us and join our Top Crafters. The best Christmas craft ideas will be showcased in our Craft Hall of fame