Ginger Bread Man Cinnamon Ornament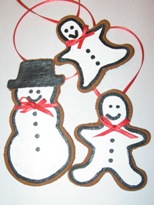 These ornaments are so very fun to make. They need to be mixed, shaped, dried and painted- all things that kids, both big and small love to do. And feel free to use any style cookie cutters that you like on these. We made ginger bread men and snowman, but you cut and decorate these sweet smelling ornaments any way that you like.
Craft Supplies Needed
1 cup of cinnamon
1 tablespoon of ground cloves
1 tablespoon of ground nutmeg
3/4 cup of applesauce
2 tablespoons of Elmer's glue
White acrylic paint
Black, gold or silver paint pen
Christmas ribbon
Crafting Steps
Mix all of the cinnamon, cloves and nutmeg together.
Now add the applesauce and glue.
Kneed the mixture 2 or 3 minutes until smooth.
Divide into four portions and roll out to approximately 1/4" inch thickness
Cut with a Christmas cookie cutter into a gingerbread man, snowman or any shape that you desire.
Place the shapes on a wire and allow 3 or 4 days to dry, turning several times per day for uniform drying.
After the ornaments are dry, use the white paint, as well as the black gold or silver paint pens to decorate as you wish.
Enjoy !
Do you love creating Christmas crafts and would like to share them?
Send them to us and join our Top Crafters. The best Christmas craft ideas will be showcased in our Craft Hall of fame