Pony Bead Santa Ornament Craft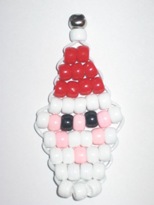 This pony bead Santa is a perfect Christmas craft for kids. Add a small jingle bell on the top of Santa's hat like we have to add a little jingle to your craft.
And please share any Santa craft ideas that you have with us. We would love to hear from you!
Craft Supplies Needed
1- jingle bell for top of hat (optional)
9- red pony beads
2- black pony beads
6- pink pony beads
23- white pony beads
36" white plastic lacing
7" piece of ribbon or white plastic lacing to hang the craft
Scissors
Crafting Steps:
Fold the plastic lacing in half and string the jingle bell onto the center of the lace, so that each side of the lace hangs an equal length on both sides of the jingle bell. (This is optional- a bell is not required) Thread both laces through the same side of a white pony bead.
From here on out, you will thread the pony beads in the order shown below, threading the plastic lacing through each row of beads from both sides .
R,R then R,R,R then R,R,R,R then W,W,W,W,W then W,P,B,P,B,P,W then W,P,W,W,P,W then W,W,P,W,W then W,W,W,W then W,W,W. Where W=White, B=Black, R= Red, P=Pink.
Tie a knot at the bottom of the Santa.
Use a 7" piece of ribbon or white plastic lacing to form a loop right under the top of the hat with which to hang your ornament.
Enjoy.
Do you love creating Christmas crafts and would like to share them?
Send them to us and join our Top Crafters. The best Christmas craft ideas will be showcased in our Craft Hall of fame