Chenille Stem Christmas Wreath Ornament Craft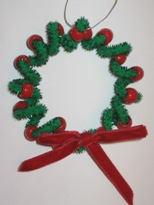 Chenille stem and pony bead crafts are among the easiest for children, and this craft is no different. With a few loops of the chenille stem around a pen or pencil, this project will be near completion.
If you have any other delightful bead or wreath creations that you would like to share, please let us know.
Craft Supplies Needed
1- green chenille stem
8 to16- red pony beads
1- 10-12" red ribbon (or optional red bow with glue gun)
1- 8-10" thin cord or ribbon to hang the wreath
1- pair of needle nose pliers to twist the ends
Crafting Steps
Slide the red pony beads onto the green chenille stem.
Wrap the chenille stem around a pencil or pen, while making sure that a red bead is located either every wrap (16 beads) or every other wrap (8 beads) around the pencil.
You will now have a chenille stem that looks like a spring. Stretch the chenille spring out somewhat and then form it into a circle or wreath shape.
Twist the ends of the chenille stem together with the pliers to complete the circle.
Tie a red ribbon bow on the bottom of the wreath. (A red bow can also be affixed with a hot glue gun- only adults should use a glue gun)
Tie a thin cord or ribbon loop to the top of the wreath to hang it from your Christmas tree.
Enjoy !
Do you love creating Christmas crafts and would like to share them?
Send them to us and join our Top Crafters. The best Christmas craft ideas will be showcased in our Craft Hall of fame