Curly Wire Beaded Wreath Ornament Craft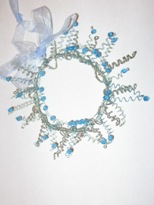 Make your Christmas tree or presents glimmer with the beautiful shimmering glow of wire and beads on this wreath ornament craft.
This is an easy Christmas craft for teenagers and adults, or even middle school children with some crafting ability. With a little wire and some beads and a few odds and ends, anyone can create this wonderful handmade ornament that looks like it came straight from a local artisan. Decorate your tree or send some very stylish gifts this year with one of our favorite crafts.
Craft Supplies Needed
26 gauge wire (green and blue)
18 gauge wire (silver)
Glass beads (assorted shades of blue) Make sure they can fit over the wire.
Dowel rod: One 12" or longer rod with a diameter of 1/8"
20" of ribbon in coordinating color approximately 3/8" wide
Wire cutter
Crafting Steps
Take the 18 gauge silver wire and wrap it two times in a circle to form the body of the wreath (A circle that is two wires thick)
Connect these two wires by twisting the 26 gauge wire around and around the two wires. Additionally wrap another 18 gauge silver wire around the two wires for added strength.
Cut the 18 gauge silver wire into around 12 to 15 sections approximately 4 to 5 inches long.
Cut the 26 gauge colored wire into around 18 to 20 sections approximately 4 to 5 inches long. (Equal amount of each)
Twist these sections tightly around the 1/8 inch dowel rod leaving about 1/2" of each end of the wire untwisted.
Stretch these twisted sections slightly and place beads on one end of some of the colored sections of wire. Be sure to bend the ends of the wire to prevent the beads from falling off.
Attached the twisted sections around the wire circles by twisting the free end around the wreath circle.
Make a loop of 18 gauge wire at the top of the circle an tie a bow with ribbon for hanging your new beaded ornament
Do you love creating Christmas crafts and would like to share them?
Send them to us and join our Top Crafters. The best Christmas craft ideas will be showcased in our Craft Hall of fame