Tri-bead Wreath Ornament Craft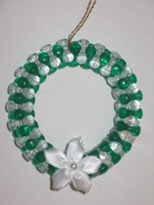 Made of clear and green tri-beads, this cute wreath ornament is easy to make and is a great Christmas craft for kids, and an easy ornament for teachers to show their children.
If you have other wreath crafts that you would like to share with us, let us know.
Craft Supplies Needed
22- Clear Tri-beads
22- Green Tri-beads
8" length of wire
bow (optional two bows to put one on each side)
Wire to attach the bow or a glue gun
Needle nose pliers
Wire cutters
Crafting Steps
Thread the clear and green beads onto the wire, alternating the colors as you thread them onto the wire.
Making the wreath as tight as you can make it, twist the wires together with the needle nose pliers and then cut off the excess wire with the wire cutters. You now have the circle that forms the wreath.
Now attach a bow (or you can attach two- one on each side of the wreath) with wire or a glue gun to the same location that you just tied the wires together. (This will help hide where the wires meet)
Enjoy !
Optional: You can make the wreath as large as you like. You may also want to make wreaths of different colors.
Do you love creating Christmas crafts and would like to share them?
Send them to us and join our Top Crafters. The best Christmas craft ideas will be showcased in our Craft Hall of fame