Christmas Crafts, Kits & Ideas for Everyone from Craftsmen to Kids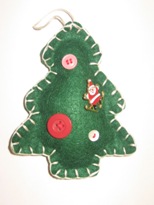 Join our first ever Christmas Craft Contest by clicking HERE. Whether you are looking for ornate craft ideas from the worlds finest craftsmen, or simple paper crafts for kids, we have step by step instructions to help you with your project. Choose from various Christmas craft types or themes to find your perfect project.
We are constantly adding crafts to our site, and welcome your ideas. If you would like to join our community of Top Crafters, or have your project considered in our Christmas Craft Hall of Fame, then please contact us. Otherwise, make yourself at home and be a part of a growing community of fellow crafters. And be sure to check back with us each week as our collection of Christmas craft projects continues to grow.
Newly Added Christmas Crafts
| | |
| --- | --- |
| | This craft was created with a chenille stem and red pony beads wrapped around a pencil and then formed into the shape of a wreath. |
| | |
| --- | --- |
| | You'll hear Christmas everywhere you turn with these easy to make jingle bell creations. |
| | |
| --- | --- |
| | This wire and bead creation glimmers on Christmas trees and presents, yet despite its appeal, is very easy to make |
| | |
| --- | --- |
| | This is a great button ornament craft for kids. With buttons available at most craft supply shops, you or your children can make these cute Christmas wreaths to hang on the tree or give as a present to parents or grandparents |
| | |
| --- | --- |
| | This simple wreath looks elegant with a mixture of sunburst, pearl and gold beads. This is also an easy craft for kids to learn |
| | |
| --- | --- |
| | A very simple craft that children will enjoy, even if they aren't able to eat the popsicles |
Do you love creating Christmas crafts and would like to share them?
Send them to us and join our Top Crafters. The best Christmas craft ideas will be showcased in our Craft Hall of fame